The microblading semi-permanent is a question that engages the mind of every client like you. The microblading process is not a permanent process. Before discussing the reasons for its non-permanent nature, you may want to know what the principle of the process is and what its method is?
Microblading is a cosmetic but semi-permanent technique. In this technique, lines like natural hair are drawn on a person's skin with special needles. The pigment used in this process is suitable for your skin. This technique actually fills your natural eyebrows and does not damage your natural eyebrows.
Read more: price of microblading in Toronto
Microblading semi-permanent tools
The use of different needles and pigments as well as the type of method is selected based on the color and type of your skin, so it is definitely the best option for each person. This microblading semi-permanent is such that the result is completely fine and natural hair. In fact, the lines that are drawn as hair strands are based on the direction of normal hair growth. About 4 to 6 weeks later, a repair session is needed.
Read more: What should you expect from microblading after two weeks ?
Is microblading semi-permanent?
Microblading semi-permanent is a tattoo technique. Although the results usually last between one and three years, it is still considered a part of tattooing because the pigment is injected under the skin. In fact, the principle of work is the same. But the main difference between the two methods is the degree of penetration of the pigment.
In microblading, this penetration is to the level of the skin that the body expels them after a while. Pigments fade over time, so if you want to increase the longevity of results, you need repair sessions. Usually, the longevity of the result depends on the skin and health and lifestyle of each person, as well as the maintenance of microblading. This method tries to give you a completely natural result and the pigments will not change color fundamentally over time.
How long does microblading semi-permanent last?
As mentioned in the previous section, the basis of microblading semi-permanent is the same as a traditional tattoo, but because in microblading the pigments do not penetrate the skin as much as a traditional tattoo, they naturally begin to fade over time. Microblading has a relatively long shelf life depending on the type of skin, whether it is oily or dry, and also the age of the person, young or mature
Read more: How Long Does Microblading Last ?
Effective factors in on microblading
Usually, this shelf life lasts between 1 to 3 years. The way microblading semi-permanent is maintained has a great impact on the durability of the result. Those who try to tan should keep in mind that this will reduce the durability of the microblading result. Also, each person's skin retains a different amount of pigment.
In order for your result to remain good, a repair session is needed every 12 to 18 months Otherwise the microblading will begin to fade and eventually a shadow will remain. This fading is a good feature that you can use in your decisions such as changing the color of the microblading. This is the gift that microblading gives you.
How to ensure last microblading result?
In this section, we have given you the instructions that you must follow to have a good microblading semi-permanent result. This list is for people who want their eyebrow microblading to last longer. Keep in mind not to wet your eyebrows for up to 10 days after the procedure. That is, avoid using water around the eyebrow area as pigment inks can wash off the skin. Avoid any activity that may make you sweat excessively, such as swimming or sauna.
Read more: Microblading in Barrie
Try to avoid sunlight during the healing process. Keep in mind that after the sixth week, a repair session is absolutely necessary and important, especially if you are looking for a more lasting result. Avoid eyebrow make up during recovery. In order not to dry out your skin during recovery, consider a proper diet and water intake.
By following these instructions, you can increase the durability of the microblading semi-permanent result. If these items are not implemented, you will still get the desired result, but your microblading may disappear sooner than expected. For example, after 6 to 9 months begins to disappear.
What factors will reduce the length of your result?
If you want increasing your lasting result for your microblading semi-permanent, in addition to the proper maintenance that you do, you should be aware of a series of things that reduce the durability of microblading. In fact, a proper care and routine should be completely conscious. If you know the things that are not good for the durability of the microblading result, you can easily take care of your eyebrows and increase the durability of your result.
We have brought you all the items that can reduce the durability of your microblading. So read these items carefully and keep them in your mind.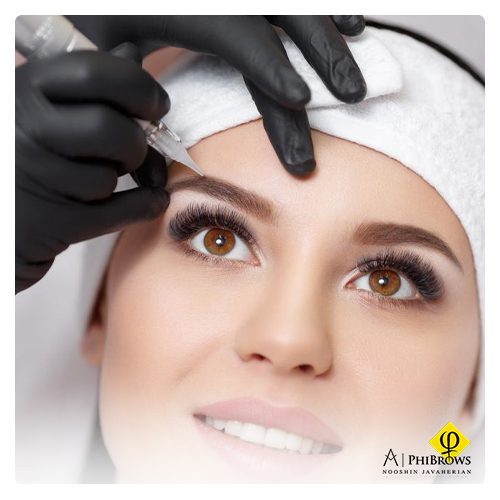 Having a proper nutritional status for the recovery period and beyond
Skin rejuvenation with organic and harmless products
Have a regular schedule to follow the necessary instructions
Avoid smoking
Age of each person's skin
Having oily skin
Damage to the skin due to excessive sunlight
Lack of hormonal balance in the body
Specific medical conditions such as having diseases such as diabetes or high blood pressure
The level of stress that a person has
A good microblading is not cheap and a cheap microblading does not have a quality result. One of the worst things you can do is go to an inexperienced person for this process. You must have heard various stories about people who have gone to inexperienced persons. Many people have lost their eyebrows or caused serious damage to their eyebrows.
The most important thing to keep in mind here is that the action that is done is for your face, so whatever the outcome is, it is always in front of your eyes. Please do not go to inexperienced people for less money because the result you get may not be reversible. So as a last resort we recommend you to choose a person with experience in the field of microblading semi-permanent.