In this article, we want to address the issue of microblading vs. micro-shading. This topic includes the differences and similarities between these two beauty treatments. Microblading vs. micro-shading are two very common and semi-permanent treatments that are very popular among women. They are looking to choose a more reliable and lasting option for themselves and be satisfied with the result of these treatments.
There is a set of tips that will help you recognize the differences between microblading vs. micro-shading. Let's mention. If you pay attention to each case, we guarantee that you can easily make the right decision and do not damage your skin and eyebrows.
As far as ladies' beauty is concerned, facial beauty plays an absolutely central part. Thus, women take whatever step needed to retain their facial glow so nowadays new methods have emerged through which the female members of the society have the possibility of benefiting from more lasting and less time-consuming cosmetic treatments with the least harm and the fewest side effects on their skin health.
read more: our microblading services in Newmarket
Our eyebrows have a great role in the attractiveness of our face and this issue is acceptable all over the world. Therefore, having suitable eyebrows with a completely natural appearance is a point that must be observed to have attractiveness and beauty. One of the solutions to achieve the desired result is microblading vs. micro-shining So we have to make a correct comparison of microblading vs. micro-dishing because many clients do not know which method is suitable for their eyebrows and whether they will achieve the desired result or not. The purpose of our article is to make this path easier for you dear ones.
The upsides and downsides of Microblading vs. Microshading
Both methods are a semi-permanent cosmetic process, but the end result of each is different in appearance. At the end of the micro-shading process, you will get the same result as the powdered eyebrow method. It gives great look to your eyebrows. As a result, when it comes to microblading vs. micro-shading, the end result of the first method is full eyebrows. If you are looking for great full eyebrows, micro-shading is the best option for you, and if you are looking for a good shape for your eyebrows, microblading is your solution.
Though as far as the negative aspects are concerned, we must be aware of the fact that neither of these procedures are under insurance coverage which means you are charged the full price. Moreover, another vital point to mention particularly for those having a very low pain threshold is that both procedures cause pain and discomfort. Here's a tip for the candidates. You can apply some local anesthetic such as Lidocaine all over the area so that the skin will be numb and less pain will be sensed.
Read more: microblading in Barrie
Is there any difference between Microblading vs. Microshading aftercare?
The aftercare for both Microblading vs. Microshading procedures is the same. You must clean your eyebrows and moisten them with a specified ointment for 2 weeks after the treatment. You should not wear cosmetics in the treatment area, and you shouldn't use any unprescribed items on your brows. At any point of the healing process, you must not touch the spot or pick at the scabs, as you will rip out the pigments and destroy the results. Once the peeling has stopped, you may resume your usual regimen, but you should avoid specific skincare components that hasten color lightening.
The differences between the two procedures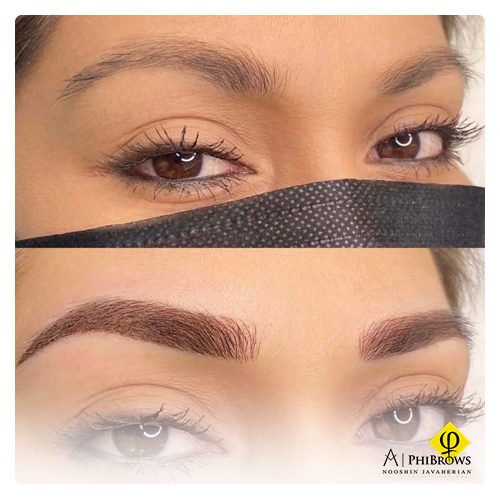 As we are focusing on Microblading vs. Microshading , one of the most noteworthy differences between them is how they are done. Let's first describe the process in Microshading through which a handheld tool is used in order to place pin-like dots over the brows area on the skin to achieve a powdered look and filled-out shape in eyebrows. However, in Microblading still there is a handheld tool consisting of tiny blades in order to apply pigmentation underneath the skin (which makes it more durable) in hair-like strokes that give the brows a much more natural look. Thus, their results differ as well.
Does microshading last longer than microblading?
Mircoshading is considered to last longer than mircoblading, lasting one to three years with good care and maintenance. While it may appear that you have hard lines on your brows for the first few days, the color will slowly fade into a lighter, more realistic brow as it recovers. It suggests getting a touchup every eight to twelve months, especially if you have oily skin, because it might fade faster on greasy skin.
Microblading vs. Microshading Maintenance
Both Microblading vs. Microshading need a 6- to 8-week touch-up session after the original session to perfect the effects. You'll have the eyebrows of your fantasies for months after that.Both treatments will fade with time, although shading fades more slowly. Regardless of the procedure, you may receive a color-boosting touch-up if you feel that your eyebrows have faded too much.You may slow down the fading period for both Microblading vs. Microshading by performing the following:
Schedule touch-up visits on a regular basis.
Maintain as much consistency as possible in your aftercare program.
Avoid direct sunlight.
Excessive perspiration should be avoided.
Avoid swimming in the sea or pool on a regular basis.
Who are the right candidates for each procedure
As Microshading is a more superficial process, it more fits those with oily and sensitive skin. So if you are a lady who must frequently apply a variety of skin care products to keep the skin oil balanced and face some sorts of sensitivity, you are advised to undergo Microshading. On the other hand, choose Microblading in case you are a candidate for semi-permanent cosmetic treatment with dry skin. Otherwise, your skin will suffer from some side effects.
Microblading vs. Microshading will present you with roughly similar pricings ranging from approximately $500 – $2000 for Microblading and $750 – $2000 for Microshading depending on where you are offered the service. Therefore, in terms of cost you have to spend similarly on either one.
WARNINGS AND PRECAUTIONS; Microblading vs. Microshading
In the treatment of micro-shading, you should note that for less pain during the process, an anesthetic cream is used. After a while, the effect of this cream disappears and after that, you may feel a little pain, so you can use painkillers such as acetaminophen and ibuprofen to reduce pain. After the procedure, your skin may become slightly irritated, which is inevitable. These symptoms include swelling or itching or redness. Again, along with all these cases, micro-shading is one of the best and safest beauty methods in the world and has its own popularity.
In the other hand microblading, can cause more serious skin infections if left untreated. If you experience problems such as yellow swelling, be sure to see your doctor to prevent further problems.
There are a number of skin care products that you should avoid before doing microblading. These products include:
Acid
Fragrance
Mechanical exfoliation
Chemical peels
Microdermabrasion
To have a great experience before and after this cosmetic process, it is recommended that you take the necessary precautions along with doing enough research. We hope that by reading this text, which focuses on microblading vs. micro-shading, our audience will become more aware of this issue.
Is it possible to combine microshading with microblading?
The answer is yes. Because microshading Toronto is more delicate, it is frequently used in combination with microblading, microfeathering, and other permanent brow methods. Microshading, for example, may be used in conjunction with microblading to generate flawlessly arched brows that seem like you just left a beauty artist's chair. Many permanent makeup artists employ this combo approach on patients who have exceptionally thin brows or who desire more dramatic results.
Which Is Better -Microblading vs. Microshading?
We can offer you a direct response, but we can also assist you in making your selection. When picking between Microblading vs. Microshading, consider your skin type, overall style, how much makeup you use on a daily basis, and which appearance you like. On dry to normal skin, microblading will appear better and stay longer than on oily skin. Also, if you have delicate skin, microshading is a preferable alternative than sketching hair strokes because shading is kinder on the skin. Microshading is ideal for customers with extremely sparse brows, whereas microblading is preferable for those who already have brows but wish to fill in sparse regions.
Microblading vs. Microshading Pain Volumes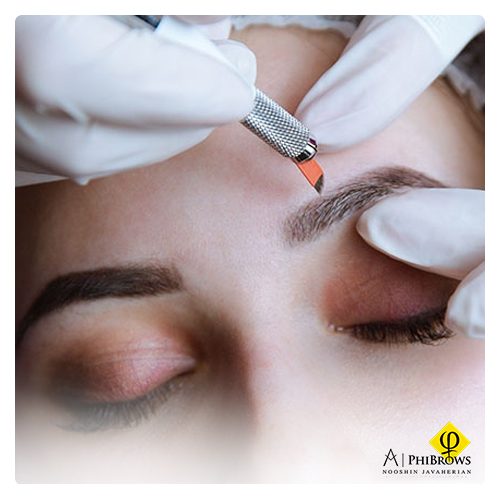 Both procedures cause little discomfort because the skin is repeatedly damaged. Both procedures, however, should be painless because they use a topical anesthetic to numb the region. The amount of pain associated with Microblading vs. Microshading varies per client. Those who have tried both have conflicting feelings. Some argue that blading is more unpleasant than shading. In any case, expect some pressure, pitching, and stinging, but no true pain.
Which Treatment Is More Effective for Covering Fading Tattooed Brows?
microshading, absolutely sure. If you have an old permanent brow tattoo or permanent makeup that hasn't gone entirely and would like to cover it up, microshading is probably your only choice. Hair strokes painted over the remnants will appear hazy and sloppy. Microshading produces a tint that effectively conceals the residue. The ability to acquire either depends on how black the old tattoos are. The skin can only accept so much pigment, so if the previous tattoo is too dark, you'll need to have it lightened or erased first.
Can I wear makeup after Microblading vs. Microshading?
It is recommended that you wait two weeks after microblading, microshading, or any other type of permanent makeup before adding makeup to the region. It is critical to keep the skin clean and free of cosmetics during the process of healing and to avoid infection.
Read more: Microblading Healing Process| Important Guide-Week-by-Week
Microblading vs. Microshading Safety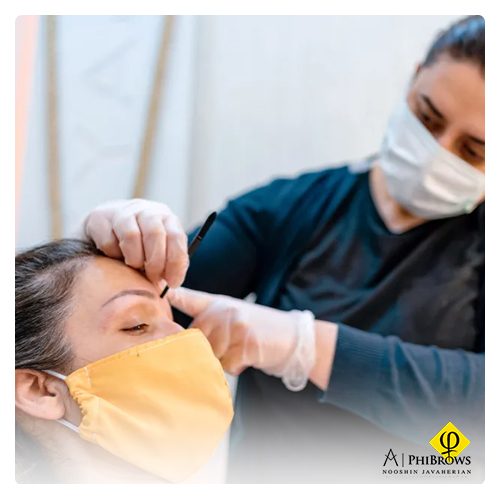 Microblading vs. Microshading are both considered safe and non-invasive since they only reach the junction between the skin's surface layer and the second layer. However, when the skin's surface is damaged, there is a danger of infection. You might get an infection if the treatment isn't done in sterile settings using sterile equipment, or if you don't follow aftercare recommendations and the incision becomes contaminated before it heals. Most infections are minor, but if you notice anything unusual throughout your healing process, inform your permanent makeup artist.
Readmore: Does microblading hurt?
Either microblading or microshading can save you from having to draw your eyebrows every day for up to two years, but choosing between the two methods should be done with care. Microblading Toronto is best suited for dry to normal skin, is done manually, and creates the appearance of naturally bigger brows. Microshading is appropriate for all skin types, may be performed manually or with a machine, can incorporate hairstrokes if desired, and gives the eyebrows a light makeup appearance.