Microblading artists are always innovating new methods to use their expertise to improve our lives. As a result, some artists are now offering a new twist on microblading Toronto that is designed specifically for male clients: microblading beards. It's the ideal male grooming solution for males who want to get the fashionable beard style but want a little extra volume.
Microblading Beard is the process of creating a design or art around patches of beard in areas where men suffer from having full and attractive beards. Men are usually disappointed if they are unable to grow a full beard or a full mustache on their faces.
Read more: microblading toronto
After we talk about microblading beard let's talk about the microblading process generally. Microblading is a semi-permanent cosmetic treatment. This treatment is similar to a traditional tattoo, although its durability is not permanent. In this treatment, pigments are applied to the base epidermis layer of the skin with a small blade that causes scratches. When these gnats enter the pocket, they get an appearance in the shape of eyebrow hair. The final result is natural eyebrows that usually last 2 to 3 years. Of course, it goes without saying that it is better to keep touch-up sessions in mind for better treatment results.
What exactly is Microblading Beard?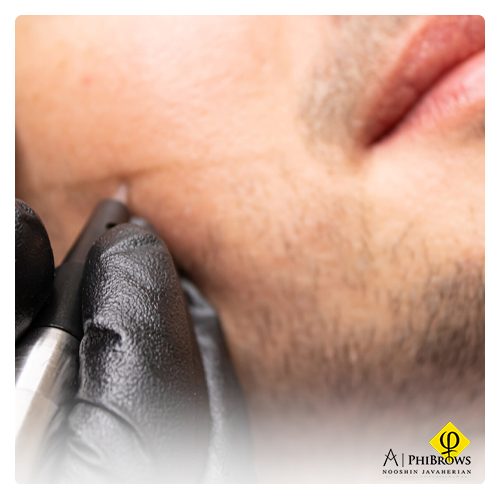 Microblading Toronto is a trendy technique for men that improves the appearance of their facial hair. It is a type of cosmetic beard tattoo that may fill up sparse areas of the beard and moustache, change the contour, and add fullness. This is now the only technique to hide scars in the area by integrating them into the stubble. Whatever the need, it may provide extremely realistic effects that last for several years.
Types of beard beauty tattoos vs. microblading beard
In this section besides microblading beard topic, we want to talk to you about the types of beard beauty tattoos.
Condensation
This is what most customers need. If the hair is short and lacks density and volume, you can thicken the entire area with a beard tattoo. Lines in the shape of hair are added between the beards and lead to more density.
Parse Patch Camouflage
Another very common defect is facial hair, which can be corrected with a beautiful beard tattoo. Many men have bald spots in their beards, which is why some of them do not want to grow a beard. A cosmetic beard tattoo can fill in those areas and fill them in with natural hair.
Shape correction
Some clients want to change the shape of their facial hair. Sometimes, in some people, the natural design is close to the jaw line and they want to raise it a little higher. The outline of facial hair can transform your face and increase its overall beauty. As a result, it can make the appearance of any person more attractive. Also, this can create the illusion of sharper cheeks for people. In general, many minor changes can be made with a beard tattoo.
Scar Camouflage
Hair does not grow on scar tissue, so men who have scars on their facial hair do not like to grow their beards because then there will be bald spots. Scars and cleft lip can be perfectly camouflaged with a beard tattoo.
Complete renovation
Some clients have no facial hair and want to completely rebuild their beard. The entire appearance of the beard can be restored for people with alopecia, people in the process of gender confirmation, cancer patients after completing chemotherapy and others.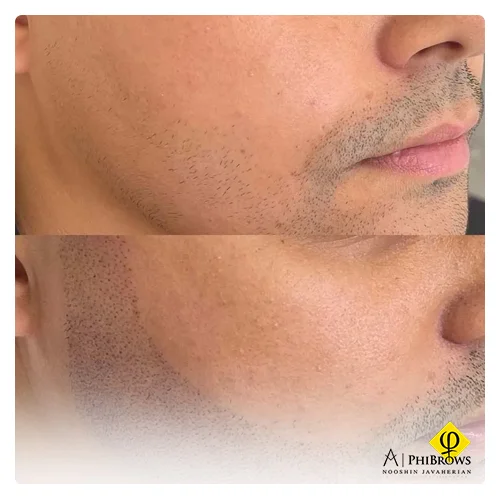 Who is a good candidate for microblading beard?
Microblading beard is an excellent solution for men who enjoy having a beard or stubble but have sparse areas, thin hair that appears uneven, or an asymmetrical beard line on the face or behind the jaw. It can also be beneficial for clients' desire to improve the connectors, which are small strands of hair that link the mustache towards the beard.
It is sometimes used to conceal scars or even replicate the whole stubble for clients who don't have any facial hair, such as those suffering from alopecia, chemotherapy patients, or transgender people transitioning from female to male.
Can men shave their faces with beard microblading?
Remember that the effects do not remain forever and that the pigments will fade, so if a man decides to shave off his facial hair, the results will still be apparent. Unless he is absolutely dedicated to wearing the beard for an extended period of time.
Read more: What is microblading semi-permanent?
How is beard microblading performed?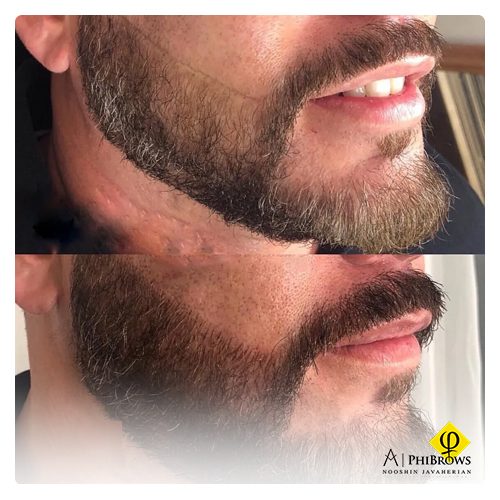 Microblading beards can indeed be performed in two different ways based on the desired appearance, but the principles are the same as with any permanent makeup procedure: pigments in the shade that blends with natural hair are implanted into the skin by opening up its surface in microincisions that mimic the shape of natural hair. Once the skin has healed, a touch-up is performed to achieve the best effects.
Here are the two beard microblading styles:

Microblading of Longer Beards
Men with longer beards may choose to fill in sparse patches and add volume. In this case, the microblading Toronto artist creates longer incisions to mimic the appearance and color of longer hair. Sparse areas are filled in with greater stroke saturation, and volume is enhanced by sketching strokes all around the jaw and cheek area between the natural hairs.

Microblading  of Scruffy Beard or Stubble
Beard microblading may also duplicate a two-day stubble appearance for those who choose not to go totally bearded. In this approach, pigments are injected in spots rather than strokes, similar to the scalp micropigmentation process. Because this is the color the hair had at the time of emergence, artists often suggest an ashy tone rather than shades of brown for this style.
Stubble reconstruction, also known as beard micropigmentation, is an excellent procedure for concealing scars in the area. It may also be used to cover the entire area for those who don't have any beard for any reason.
Is Beard Microblading the Same as a Beard Tattoo?
In a way, yes. Cosmetic tattoos, which are designed to enhance natural traits, are far more advanced than conventional tattoos. Pigments that are not injected too deeply into the epidermis are used in cosmetic beard tattoos. With time, the body degrades them, and the beard tattoo disappears.
How Long Do the Results of Microblading Beard Last?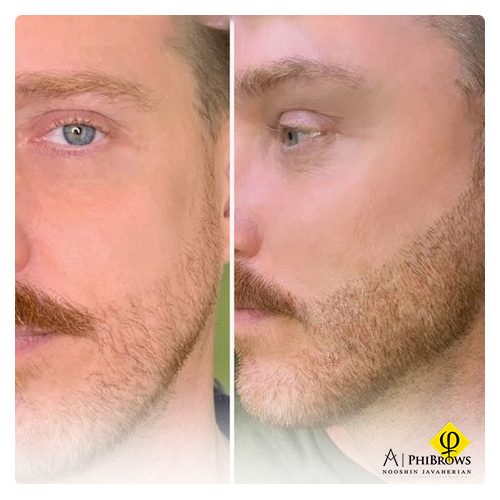 The effects of beard microblading might last up to two years, based on lifestyle, aftercare, and overall health. Each individual's body absorbs pigments at its unique pace.
You keep your effects as long as possible. Be sure to follow all aftercare recommendations and avoid activities and items that cause fading. When the effects begin to fade, you may plan a touch-up appointment to extend them.
Read more: How Long Does Microblading Last ?
How Long Does a Beard Microblading Session Last?
The amount of work that needs to be done determines how long the microblading beard will take. The microblading artist must examine the area, shape it, mix paints, and then apply them as precisely as possible. Small adjustments normally take approximately an hour, while filling in thin beards or reconstructing stubble over the entire region might take up to 3 hours.
Please remember that if you have a bigger area microbladed, you'll most likely require a touch-up approximately six weeks after the initial session, which should take considerably less time.
How Much Does Microblading of a Beard Cost?
The price of microblading beard is determined by the microblading Toronto artist and the amount of work performed. The best way to find out how much the beard will cost is to book a consultation with the artist and let them estimate the amount of work that has to be done.
Read more: How much does microblading cost?
How do I choose a professional artist or salon for Beard Microblading?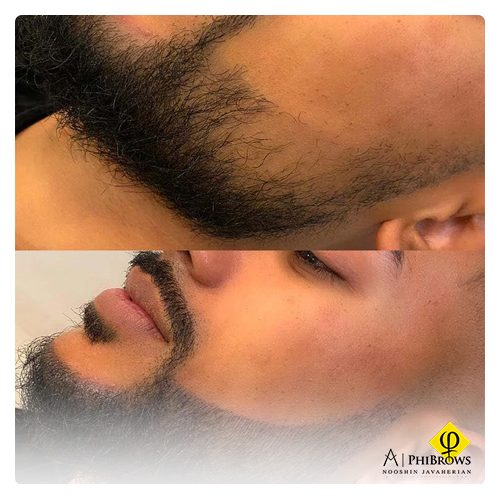 Because microblading beards is a relatively new method, few artists provide it. Keep in mind that there is no training for this specific branch, so it is typically done by artists who are so skilled at eyebrow microblading that they feel confident treating other parts of the face. If you really can locate an artist that provides this treatment on a regular basis, that's fantastic! Examine their microblading before and after portfolio, and if it appears promising, book a consultation session.
Beard microblading is a new procedure for men that improves the appearance of their facial hair. Because microblading beard is a very new procedure, there is likely no artist in your area that specializes in it. It's recommended to contact a handful of your area's most skilled and recognized artists and ask if they've ever performed facial hair augmentation and if they'd be prepared to do so. Just make absolutely sure you always go to a microblading Toronto artist that has been trained, qualified, and licensed.