Since microblading overtook traditional eyebrow tattooing, new and more sophisticated techniques have emerged. You've probably heard about Microblading styles, but you don't know the difference between these styles and techniques. Some people use the names of these techniques interchangeably, but you should know that each has a unique style. Sometimes microblading artists can apply a combination of several techniques to clients. With this, it can be said that each person can have their style in mind.
If you are one of the people who want to microblading your eyebrows but you don't know which style is right for you, you can choose the right style with the help of our Microblading Styles comprehensive guide.
Why Should You Consider Microblading?
Before going into Microblading styles, it is better to check why the microblading method is a good option to beautify eyebrows. In the following, we will state some of the most important reasons:
You have more time to start the morning. Many women spend much time on their makeup in the morning routine. By performing the microblading process, you can have an acceptable appearance and be relieved from eyebrow makeup.
You save some money. By microblading, you don't need to pay for eyebrow pencils, eyebrow waxing, eyebrow shaping, brush, and tweezers. Microblading is an investment that can save you money and stress related to them.
It does not require maintenance. One of the great and important advantages of microblading is that it does not require maintenance after the recovery period, and you can continue your normal life. Also, you don't have to worry about the appearance of your eyebrows because they look great.
Microblading is waterproof. Microblading does not create stains, so you can enjoy swimming, sauna, jacuzzi, and favorite sports without touching your eyebrows.
The results are natural looking. The results that microblading gives you are nothing but a natural and beautiful appearance. This is the art that microblading specialists represent.
Readmore: The top 10 benefits of microblading
Microblading styles
Microblading is the first type of treatment to change eyebrow tattooing. It made eyebrow tattooing modern. This article aims to tell you about the different Microblading styles. With the help of this guide, you can quickly get to know all Microblading styles:
Natural Brows
The natural look is definitely one of the most popular microblading styles and most clients ask for this style: delicate brows without makeup. The result of this style is eyebrows that look like you have done nothing to them and are very natural and beautiful.
The shape of the eyebrow corresponds to the natural arches and is measured according to the bone structure and the location of the eye. The color used is made to order so that it cannot be distinguished from the real hair color. The most natural results are achieved with very thin microblading blades. These blades are thinner than regular blades, so they can create finer strokes.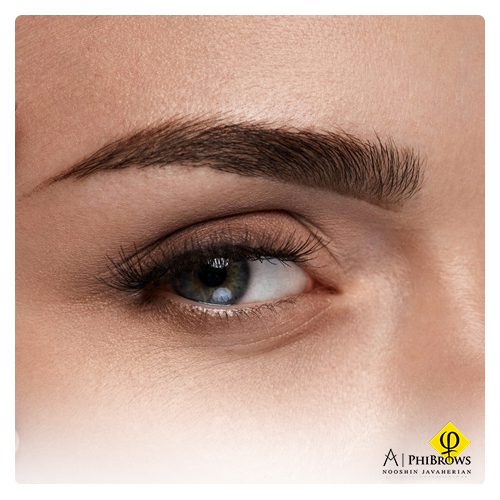 Thin Microbladed Brow
If you are one of the fans of thin eyebrows and you think that thick eyebrows cannot be suitable for you, this style is ideal for you. The shape of thin eyebrows is achieved by focusing on the middle of the eyebrow, where the strokes are dense. Because thinner brows have more pronounced arches, most strokes are placed along the center of the brow.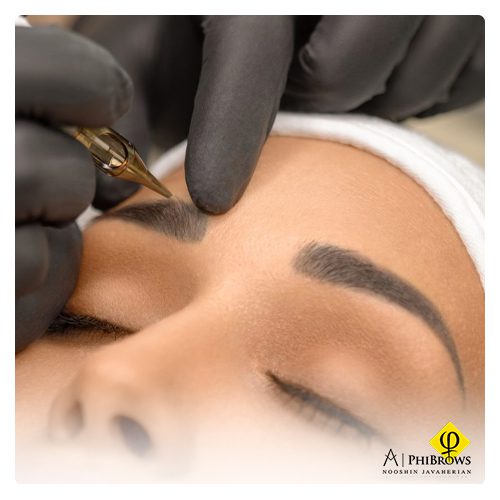 Combo Brows: Microblading + Shading
This style is a great option for those who are looking for defined and dramatic brows and want their brows to look fuller and natural. In this style, hair strokes are drawn with microblading and then the surrounding spaces are shaded with the eyebrow powder technique. The purpose of this style is to create a delicate and focused eyebrow instead of a rough and elongated eyebrow appearance.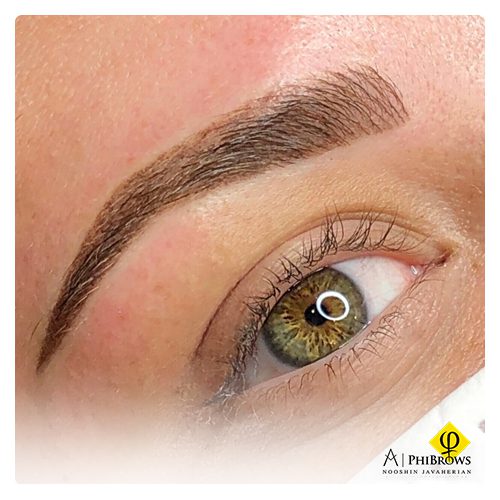 Breezy Brows
As you know, messy eyebrows have been in fashion for a while now. As a result, if you like this style, you can make it last longer with this method. The movements in microblading are a little longer and this makes the eyebrows look soft and thick. But the lines that are drawn are very thin and are drawn in different directions so that it seems that the eyebrows are intertwined. This will give the brows a fuller look.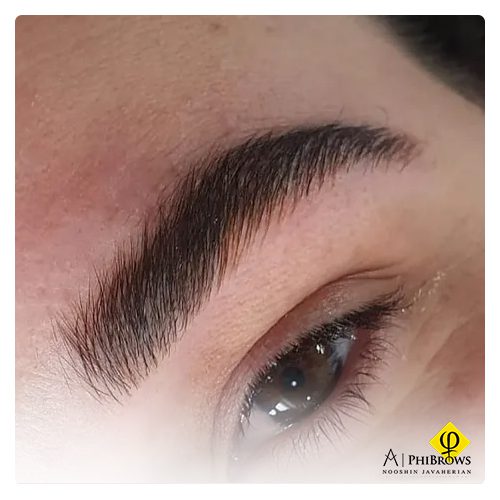 In the next step, in order to define the eyebrows, shading is applied with the eyebrow powder technique. This makes the arch of the eyebrow thicker than normal microblading, but not as sharp and ombre as normal powder eyebrows. This technique is suitable for people who have thick eyebrows, and with this technique, they no longer need to spend a lot of time on eyebrow makeup every day.
Feather Brows
This style is also known as Microfeathering and is very popular among Microblading styles. This name is derived from the fluffiness of the eyebrows. In this technique, the strokes are longer and drawn upwards, thus creating the illusion of an eyebrow arch.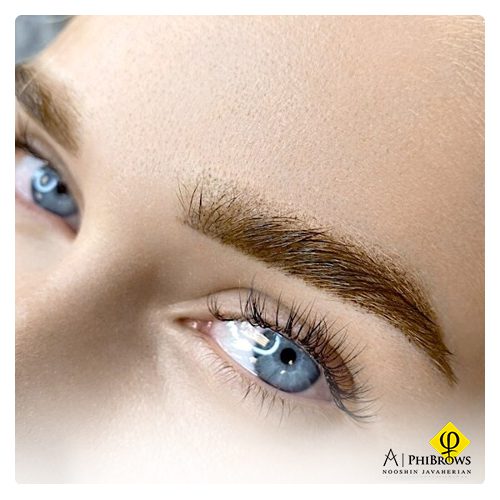 How to Choose the Right Microblading Style
The process of choosing the right microblading style for each person can be a bit difficult, especially if you don't know what is best for your face shape and skin tone. Here are some tips to help you choose the right microblading style for you:
Face shape: The shape of each person's face plays an important role in determining the style of microblading. For example, arched eyebrows are suitable for round and square faces, but straight eyebrows are suitable for oval or heart-shaped faces.
Skin color: Skin color plays a role in determining the style of microblading. For example, if you are among the people who have fair skin, you may not like dark and colorful eyebrows because it makes your face a little rough, but a more natural eyebrow is a good option for you.
Lifestyle: Before choosing a microblading style, you should consider your lifestyle. If you are one of those people who want to always have minimal makeup, natural makeup can be ideal for you. But if you want to experience different makeup, the more prominent eyebrows model will be more suitable.
Give beauty to your eyebrows by choosing the right style
As we have explained in this article, microblading has different shapes and styles that differ according to the shape and size of the skin and the personal preferences of each person. When choosing a microblading style for yourself, you should consider your face shape, skin color and lifestyle. In addition to these things, it is absolutely necessary to take proper care of the eyebrows after doing the microblading process to get the best results. If you want to get help from professional experts for choosing one of the Microblading styles, we are by your side, just contact us. Our expert at Canada permanent makeup choose the best style according to your face and skin type.