Microblading is a cosmetic procedure that aims to fill the eyebrows with semi-permanent tattoos. This process helps clients to have flawless, beautiful and natural eyebrows. It takes about two hours for microblading artist to complete this process for your eyebrows. In this way, getting a microblading certification will help you to increase your customers' trust in you day by day so that other people will want your services. In this article, we will fully explain what a microblading certification is and what are the benefits will be for you, as well as the instructions for obtaining this certificate.
Read more: NOOSHIN'S WORLDWIDE PHIBROWS CERTIFICATE
What is microblading certification?
The eyebrow microblading certification is a completely official document that actually confirms the expertise and experience of a microblading artist. Different associations and academies offer different degrees according to their rules, but all of them indicate that a person has been trained in microblading usually the steps for obtaining a microblading certification include the following:
The first step in starting this process is to attend microblading classes. In principle, you must complete 100 hours of microblading training. You may need to take and complete blood pathogen training courses. Finally, there are a number of tests you must take to obtain a microblading certification.
Read more: Microblading in Toronto
What are the benefits of microblading certification?
A microblading specialist, in addition to being responsible for the appearance of her clients, is also responsible for the health and safety of her clients because of her job.
Obtaining a microblading certification ensures that you, as a microblading specialist, have the appropriate training to perform this process. Definitely in any job you want to start, getting a special certificate for that job can help you a lot and create a special place in the job for you. As a result of the trainings and courses that you participate in, in addition to the skills, you also gain the necessary experience. The same is true for microblading.
In this section, we have brought you some of the special benefits of obtaining a microblading certification:
It's a new and relevant skill
To obtain a microblading certification, you must go through steps that involve learning specific skills, and you must first become familiar with previous microblading knowledge. Getting a microblading certification can be a great way for you to gain a new skill that you can use to market yourself as a microblading artist.
It is true that in fashion today, eyebrows are naturally popular and microblading is a popular process but having a special certification can be extremely useful for your profession.
Read more: Microblading in Barrie
Increase client confidence
Regarding beauty services, everyone is looking for professional and experienced persons, especially for semi-permanent beauty processes that are supposed to be more durable, Customers are more interested in working with reputable artists.
By obtaining a microblading certification, you can prove to your customers that you care about their health and well-being, and by helping them, you can increase their self-confidence and happiness. This will create a relationship of respect and trust between you and your clients, as a result of which your business will grow amazingly.
Connect with other microblading artists
By getting a microblading certification, along with all the benefits you get, you can have more contact with other microblading experts and get help from them in this field. Getting help from professional and experienced people in any field can help the growth and development of any person. In addition to completing the necessary training, you can talk and communicate with those around you to create a professional network.
As a result, you can refer to this person whenever you need help or advice in this field. By creating different networks and more connections, you can become more professional and have easier access to your other colleagues.
Read more: How to Become a Microblading artist Toronto?
What will you learn during training?
Passing microblading courses is the most important step to get a microblading certification. In these courses you will learn the necessary skills and knowledge to start working and then you need to gain experience to become more professional in this field. In these courses you will learn different topics that we have brought to you: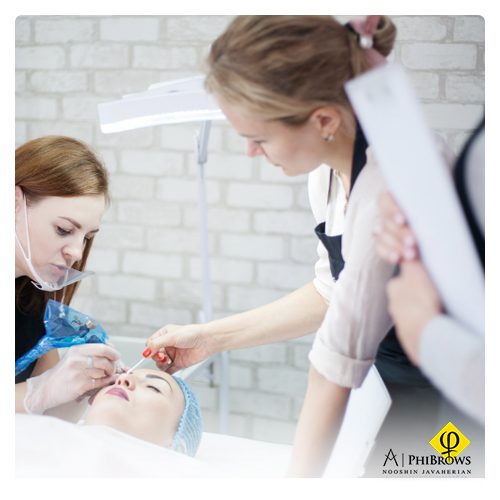 The first topic is to learn the exact steps of the microblading process and what exactly should be done in each step is taught. In the next step you have to create the necessary safety for your customers by using disinfection, in this step you will be taught how to do this. Another thing you need to learn is to prevent infection for the customer, and you will be told the solutions.
Also, in the next step, you will be taught all the methods of microblading so that you have complete mastery of providing services, and after that, the tools and equipment you need will be introduced to you, and you will learn how to work with them. In the training courses, you will learn what methods and pigments to use based on the type and color of the skin so that the customer gets the best result. Finally, you will be told topics such as preparing treatment rooms and how to answer customer questions and correct deficiencies in training.
Training doesn't end there
Note that you will not work on the live model during the training, but after completing the training courses and classes and learning all the health items, you can practice on the live model because you got microblading certification. In fact, basic training can't be done on live models because there are many potential risks and also the person has not yet learned the necessary skills and knowledge to perform this process.
Most likely, after passing the training courses, you will be given an exercise that you have to do at home and after completing them, you will deliver them to determine the level of your mastery and learning. After completing the courses, you can ask your instructor questions directly so that you can correct your learning disabilities and complete your training.
As a final word, the more practice and repetition you have in this field, the easier you can get your microblading certification and use its great benefits in your business.