One of the most crucial aspects of microblading in Toronto is matching the microblading color chart to your client's natural hair color. Poorly matched strokes will not mix in with the natural hair, and the overall feeling will be messy. Fortunately, the PMU online shop offers a broad selection of pigment colors in brown, black, golden, and reddish pigments from the microblading color chart, which is combined for a closer match.
Because your clients may be curious about the pigments' formula, it's critical for a microblading artist to be knowledgeable about the components.
Read more: Microblading in Toronto 
Microblading color chart pigment classification
Pigments in a microblading chart are classified into two types based on their origin: iron oxides, and synthetic pigments. Stone dust, rust, and other natural metal oxides are used to produce iron oxides. Synthetic pigments are made from plants, animals, as well as other natural sources, as well as synthetic materials.
Each group has benefits and drawbacks, most of which are related to color stability. We're working with three fundamental colors in the microblading color chart: black, red, and yellow. These pigment hues react variably throughout time based on their origin, i.e., their durability varies.
Red is by far the most lasting of the iron oxides, which is why eyebrows done with iron oxides tend to seem solely red after a time. Black is the most permanent synthetic pigment, whereas yellow and red fade more rapidly, leaving the customer with grey brows.
Supplemental Formula for Microblading Color Chart
The fact that iron oxides and synthetics are combined together to achieve the optimum performance out of the microblading in Toronto is what makes them unique. Red iron oxides are used in the extra formula, whereas black and yellow are synthetic. As a consequence, the pigment does not fade into an unappealing grey purple, or pure red in the microblading color chart.
When the pigment is injected into the skin, it quickly takes on a warm tone. The formula is not magnetic, and the heavy metal content is within safe limits. Working with synthetic pigments is frequently problematic because their formula is very light and tends to slide under the skin. the Supplemental formula is heavy enough and doesn't dissolve in water, making it exceptionally easy to apply and allowing for maximum precision.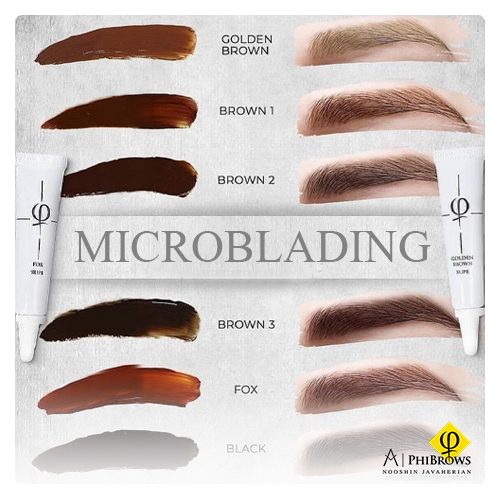 As previously said, microbladin artists in microblading color chart use red, yellow, and black pigments to achieve a variety of brown tones. SUP Brown 2 is the most versatile pigment color. It is made up of equal parts red, yellow, and black and is said to be the beginning point for a more personalized color.
The color may be adjusted by adding red, yellow, or black, and is suited to natural blonds, redheads, or customers with exceptionally dark brown to black hair.SUP Brown 1 and SUP Golden Brown, pigment hues used on blondes, are created by adding a yellow pigment called SUP Sunset. These colors are yellow-based.
The addition of red results in the red base shade SUP Fox for redheads. Adding black pigment (named Arabian Night) results in a black base color, SUP Brown 3, which is suitable for customers with dark hair.
These are the color possibilities for the greatest microblading pigments on the market right now, and this color chart summarizes them all. Furthermore, the Phi Mixer – Pigment Mixer Machine is the most practical equipment for mixing colors evenly and quickly.
Supplemental Formula for Improved Microblading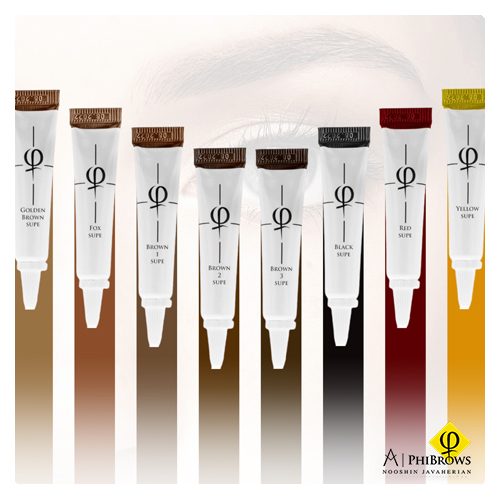 Supplemental (SUPE) is the fifth generation of pigments for the microblading color chart, and it represents the fifth upgraded edition of the original synthetic microblading formula. What distinguishes it from its predecessors (including the previously described SUP pigments) is the compressed yellow pigment, which is far more stable in this formulation.
Because yellow is the least stable color in this chart, as it fades out of the skin, the brows may become grey or reddish. The same stability of all pigments that form brown (the most common being SUPE Brown 2) keeps the hue from shifting into an undesirable one until it fades entirely. SUPE and SUP pigments have different packaging and a creamier composition. It makes the product simpler to work with since the pigment comes out easily and can be dosed with more precision.
What are the characteristics of SUPE pigments in the microblading color chart?
One of the characteristics of SUPE pigments microblading color chart is that they do not need further mixing with basic colors to make them warmer. It is not essential to add any of the basic pigments to the new SUPE mix (red , yellow, or black). This is the only pigment on the marketplace whose producer promises that its shade will not alter over time in contrast to the shade following healing.
SUPE pigments are available in the same hues and tints as the microblading color chart, as previously mentioned with SUP one. The sole difference is that SUP Arabian Night is now SUPE Black, and SUPE Warm Effect is now SUPE Red.
Choosing the Right Pigment Shade
Color consultation is the initial stage in the microblading treatment. It is important to listen to your client's requests when matching the color of the pigment, but there are other aspects to consider as well. One of them is the client's epidermal thickness. The same exact pigment tone will seem warm on thin skin yet chilly and grey on broader skin.
Also, because our skin color changes over time, it's preferable to ignore the undertone of the skin itself and instead match the color of the strokes to the natural brow hairs.
If you have decided to use microblading in toronto to enhance your brows, you should be aware of a number of recommendations and considerations. At this important point, knowing about microblading color charts, color selection, and color mixing is so useful for choosing the right color at the consultation appointment. Ask the microblading artist to show you the color chart and explain what color is suitable for your eyebrows.
Different microblading color chart & palette:
Microblading color chart are the main part of microblading pigmentation that help you determine the right color of your eyebrows easily. Different microblading color chart & palettes are divided into light, medium and dark skin types.
Cool palette
If you have rosy or fair skin, using a cool palette is very effective in choosing perfect brows. By using the cold palette, you can apply various options from the bottom colors such as ultramarine to green or light gray.
Most importantly, the cold palette does not have any red pigments. After using the cold palette, it affects the color of your eyebrows due to the tone of your skin. The appearance of light brown and soft blonde is completely visible in the cold palette.
Neutral palette
If you have dark undertones or fair skin, a neutral palette is ideal for you. All the colors in the neutral palette have red pigment. With lighter skin, cadmium red or alizarin crimson, which have red undertones, blend well together. However, the lightest skin color makes your eyebrows stand out more.
Warm palette
Anyone with darker skin can consider the warm palette because it is only used for darker skin with chocolate, amber or olive undertones. Also, people who consider this palette do not have brown hair.