In this article, we want to talk to you about a specific topic that many of you have never heard of and that may surprise you. Let's start the conversation with a question: Is there a microblading for men in Toronto in the world? The answer to this question is yes. Many people have different opinions about caring about men's appearance, many of which are almost mythical and can't be said to be true. Many women believe that men do not care much about their appearance and the reason for this result is known as the behavior of men on social media.
If you are one of the above people, then you will surely be surprised by reading more. You should know that there are many men who do microblading services for their eyebrows every day. We know that the general view of people is that microblading is a beauty service for women, but Microblading is very popular for men who want fuller eyebrows. With the microblading for men in Toronto process, your eyebrows will always look neat and tidy.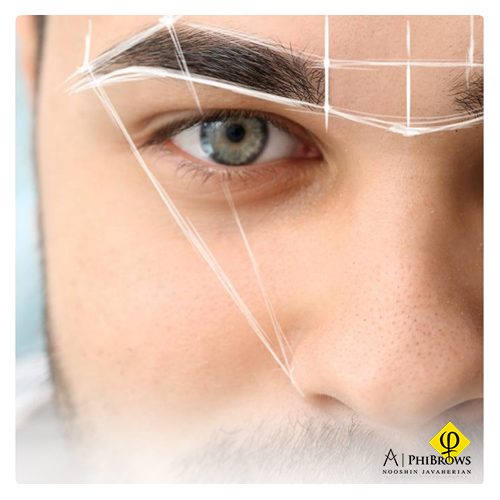 How has the microblading process become popular for men?
One of the most important reasons that the microblading process is popular with men is the natural appearance that microblading creates for the eyebrows. In fact, after you have done the microblading you can pretend that you have not done any process. Microblading With the natural look it creates for the eyebrows, it attracts everyone. Even if you go to YouTube, you can watch many videos about microblading for in men in Toronto and explore their experiences.
This method is a tattoo technique that has a semi-permanent shelf life. In the microblading for men in Toronto process, special pigments are used to fill the eyebrows to create a natural and beautiful appearance for your eyebrows. In this process, a small device with special needles are used by hand and the pigment enters your skin through this and is drawn in the form of eyebrow strands. The strands that are drawn are so thin that they are no different from the natural strands of yours.
Is microblading for men in Toronto extraordinary?
Many women choose the microblading method to completely change the shape of their eyebrows. But microblading for men in Toronto is mostly used when they want to strengthen the natural shape of their eyebrows and make them look fuller. The advice we give to men who they want to do this process is to avoid the tendency to arch their eyebrows because it makes their eyebrows feminine.
Read more: microblading in Barrie
is there any distinction in the process between microblading men and women?
People have been discussing microblading nowadays, which has naturally sparked men's curiosity in the process that has been reshaping women's appearances and has them asking if the process is the same as microblading men's brows. Many microblading artists believe that when they are microblading men's brows, they prefer to contour and map them manually because male brows have fewer curves and differ from women's. This is why, instead of utilizing stencils or mathematically accurate mapping, the artists normally draw the lines by hand and thereafter fill them with strokes that mimic natural hair.
Have you lost your eyebrows for various reasons?
This part is for you. If your eyebrows have fallen out due to various diseases, microblading can increase your self-confidence and restore your former beauty. If you are one of the people who clean your eyebrows frequently, this method is a great option for you. Because microblading for men in Toronto gives your eyebrows a special shape and regulates them. If there is a scar on your eyebrows where your eyebrow hair does not grow, microblading men is a miracle for you. This treatment allows you to wake up every day with perfectly tidy eyebrows.
There is no difference between microblading for men in Toronto and microblading for women. In fact, this process is done far from any gender differences. The only difference between the two processes is the type of pattern drawing that the specialist does for men and women. This means that women, usually use shapes that have an arch, but for men, most shapes are flat to be more masculine.
Is the result of microblading men completely clear?
The microblading for men in Toronto method uses delicate and special needles that the very thin strands that are drawn do not make any difference with your natural hair strands and as a result, the appearance of your eyebrows is completely natural. In fact, if you do not tell anyone, no one will notice that You have done the treatment. If we want to talk about the benefits of microblading for men in Toronto, its semi-permanent durability is one of its most important benefits. In fact, you can expect your microblading result to last up to three years.
After the first session, your recovery period should be about six weeks and then you can go to your specialist to tell you if a repair session is needed. The repair session is optional, but if your specialist recommends it, it is better to do it because in these sessions you can make small changes and repair any points that need repair. Depending on the type of skin you have, the pigments react differently. After examinations by your specialist, you can go for treatment about every twelve to eighteen months.
Read more: Microblading in Newmarket
What should be done after microblading for men in Toronto?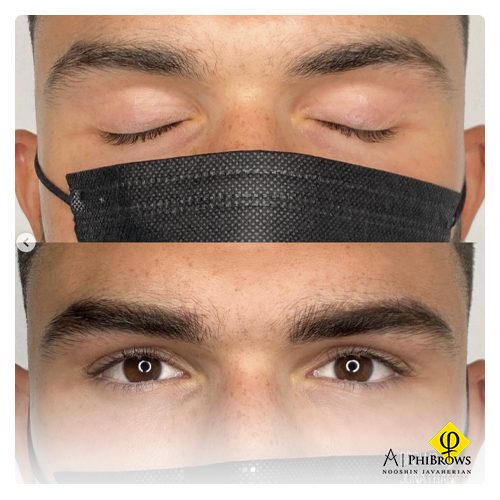 The point that you should pay attention to is that after doing microblading men, there are some cares that you should consider when recovering. If you go to the gym on a daily basis, it is better to plan to do not exercise after doing microblading for a short time. Once you have done this process, you should not moisturize your eyebrows for a week, either with water or sweat, as this can cause pigmentation problems and make your eyebrows uneven. Avoid the healing process from the sun because your skin is more at risk because it is sensitive and may cause irritation.
In the first week after microblading, your eyebrows start to flake, which is a completely normal process and you should not worry. In fact, the pigment in your eyebrows changes to get its final color. You may want to do this process while you are on vacation, but you should know that the recovery period may take six weeks, but it takes about a week for the initial recovery to end. Be careful not to peel off the scales as this will destroy the pigments and make your eyebrows look thinner and your skin will eventually be damaged.
Microblading men is an excellent option for those who want enhanced eyebrow fullness that appears natural and is simple to maintain. It's also the sole option for males who don't have brows owing to medical issues or aging. If you are a man who is unhappy with the form or thickness of your brows, consider a microblading procedure.