Brow Lamination Newmarket
Have you heard anything about brow lamination Newmarket ? It's the hot new treatment that's everyone wants to try, brow lamination are the two words on every brow enthusiast's lips. The results speak for themselves, delivering fuller looking brows without the need for your best eyebrow make up products. When you look at the before and after pictures, it's hard to believe both shots are the same person's natural brows.
Brow lamination originated in Russia, but fortunately we can see brow lamination Newmarket and so many countries now. You may have noticed pictures of full, slicked-up brows with a high-shine finish taking over your Instagram Explore page. Well, that's brow lamination. It's more or less semipermanent soap brows. Brow lamination takes your unruly or thinning brow and smoothes it out while also lifting the hair in a more vertical direction. No matter what your brow concern is gaps, thinning, overplucking, unruliness, brow lamination is an amazing solution.
Read more: Microblading Toronto price
Brow Lamination in canada makeup
Brow Lamination in canada makeup
If you chose Canada make up for brow lamination Newmarket ,
we congratulate to you so don't worry about anything else because we stay with you until the process is finish. The best point in this service is we can give people the brows they have always wanted in less than an hour. It hides small gaps and gives the illusion of major hair growth. Some of our clients are 30s to 50s and have lost a lot of their brow hair, either through the natural aging process, illness, or just over waxing. This is a noninvasive, temporary, but impactful way to fix their brows in an affordable way.
Most women have many doubts befor doing beauty services but there is good solution for this problem, everyone who wants to know more about brow lamination Newmarket , she can read the people's opinion about this service in Canada make up website and being sure that can make a right decision here.
Elite Atta mini: Being a profesional Fantastic job. she is amazing really an artist and she knows exactly what to do highly recommended.

Had my eyebrows done for the first time here and Mrs. Nooshin was very careful, professional and attentive throughout the process, making the entire experience very

[…]

Fantastic job. she is amazing really an artist and she knows exactly what to do. Highly recommended !
What is the process of brow lamination?
At first Your brow expert will perform a full consultation with you, with brow mapping to discover your perfect brow style. After cleansing the brows, your tech will place brows in an upward position using Brow Fix to ensure all Brow Lamination solutions target the brow from the root to the tip. This solution holds the brows in place throughout the treatment. Brow Style is applied to the brows. This cream creates a chemical process that breaks down the bonds in each hair, allowing them to be manipulated into a new shape. Solution is left on the brows for a predetermined time depending on the condition of the hair.
Optional Tinting: Brows can be tinted to add colour to the brows and to enhance the results of the treatment. All traces of the products above are removed from the brows, then Brow Nourish (a specially developed brow serum with keratin) is applied to the brows to hydrate and condition the hair.
The brows are brushed into their desired position, this position is adjustable depending on the look you would like to achieve. Brows can be brushed up or brushed into a more natural shape.
brow lamination maintenance
In this process one of the important things is the way you take care of your brows after this service, even if you choose the best place for brow lamination Newmarket .
Keep your eyebrows completely dry for the first 24 hours. This might be the most important thing you do after getting the lamination treatment.
Resist the urge to touch your eyebrows. This is really hard, we know! Unfortunately, when you touch your brows, you introduce oil from your fingers and this can clog the pores in your brows.
Skip makeup for 24 hours after getting your brows done.
Wait 2 days before you wash your face so your eyebrows don't get wet. This is probably one of the hardest things about laminating your brows.
Avoid swimming, showering, or sweating excessively.
Try to sleep on your back so you don't press on your brows at night, For the first night, try to sleep on your back.
Avoid using exfoliating products or retinoids around your brows for 3 days. If your brows feel extra-sensitive for a few days after the procedure, it's totally normal.
strengthens shape and add volume
Strengthening of the eyebrows is the first effect of brow lamination. Due to the influence of therapeutic and nutritional elements, the hairs are strengthened, become 30% more voluminous and thick. Please note that the procedure has an accumulating effect and with next visit the eyebrows will add 10% in volume and thickness. In total, you will need only three sessions to give the hair 50% more volume!
Improving the appearance of the eyebrows is the second effect of brow lamination. The hairs receive a beautiful expressive color, incredible shine and a new shape. So if you are looking for a brow lamination Newmarket which is have these two attributes, stay with Canada make up.
What's the difference between brow lamination and microblading?
Eyebrow microblading fills your eyebrows, but brow lamination Newmarket makes your natural hair straight and long so that your eyebrows look fuller and does not use any tattoos.
What are the benefits of brow lamination Newmarket?
One of the important benefits of brow lamination Newmarket is the beautiful appearance it gives you. When this process is done correctly, the eyebrows will improve aesthetically and the eyebrows will look fuller and longer. In addition to straightening the eyebrow hair, you can shape your eyebrows during the eyebrow lamination process. For example, you can raise or lower the arch of the eyebrow until you get the desired shape.
Unlike other eyebrow treatments including microblading, this treatment is 100% non-invasive, but its durability is not permanent. This beauty treatment is an ideal option for people who don't want to commit to eyebrow services.
In addition to looking beautiful, your eyebrows after brow lamination Newmarket are easier to manage. If your eyebrow hairs are not easily straightened and you cannot brush them easily, they will be straightened and managed in the easiest way with this treatment. With this treatment, the eyebrow hairs are placed in a vertical direction and their appearance becomes as if they were skillfully brushed and placed in place.
Another benefits of brow lamination Newmarket is that it lasts for about 8 weeks, which means you don't need to use gel for your eyebrows every morning. This allows for a low maintenance daily routine.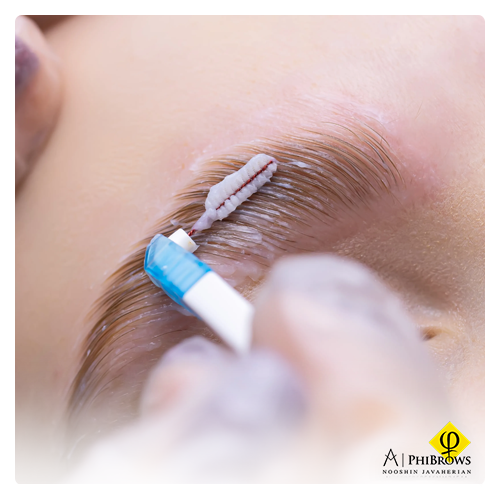 How to prepare for brow lamination ?
There is no prior preparation for brow lamination Newmarket, however, if you are looking for a better result, grown eyebrows that have not been trimmed can look their best in terms of their length when it comes to uniform filling. The important thing to keep in mind is that you shouldn't wet your eyebrows for twenty-four hours, so be sure to plan for this process so that you can avoid showering and exercising.
Each person's eyebrows will be the same for five to eight weeks, depending on the thickness of their hair. If you have thick hair, you can do this process once every eight weeks, but if your hair is fine, you should not do this process for ten weeks. We check the eyebrow hairs from the beginning to make sure they are strong enough. This process is to increase hair growth so you can finally increase the time between processes.
Is it possible to combine eyebrow laminate with henna?
We do not recommend combining these two treatments because eyebrow hairs tend to tolerate too many substances and the result is not always the best. In fact, the result of the combination of these two treatments is the tightening of the eyebrows, exactly the opposite of the result of the eyebrow lift, which is fluffy and smooth eyebrows. The focus of the brow lamination Newmarket is on the eyebrow hairs, but if henna color is used on the skin, its effect will be reduced and the other hairs will be half-grey. If you intend to have darker eyebrows, we recommend using the classic eyebrow color.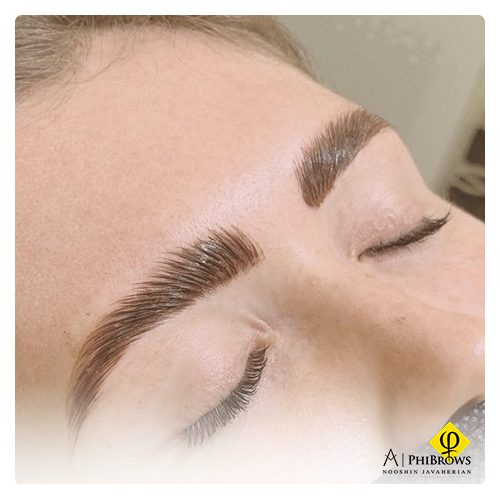 Can brow lamination Newmarket be done for pregnant women?
We do not recommend brow lamination Newmarket to people who are pregnant or breastfeeding. This treatment can be less effective due to hormonal changes or the skin does not respond well to the treatment during this period. It is better for pregnant and lactating women to wait until this period is over and then proceed with this treatment so that the result is bright and beautiful eyebrows.
How to remove the eyebrow laminate glue?
If you have studied the steps of brow lamination Newmarket, you should know that a special glue is used to stick the hair to the skin, although the amount of this glue is not much. In the last step, the remaining glue is removed from the skin with a special cotton. If your eyebrow hairs are thinner or longer, it is better to leave some glue on them.
What people are not suitable for eyebrow laminate?
brow lamination Newmarket is not suitable for people who have very thin or short eyebrows. Of course, the choice of this method depends on the customer, but as a professional team, we give our customers the necessary advice on this matter, and these advices are mostly well received. Keep in mind that this treatment is absolutely prohibited for irritated skin such as acne, eczema or sunburned skin.
How often can eyebrow laminitis be done?
You can repeat this treatment every 6 to 8 weeks. If you do this too much, the skin around the eyebrows may be damaged or the eyebrows may have problems.
Is it possible to make up immediately after eyebrow lift?
Our advice is to leave your eyebrows alone for the first 24 hours. That is, do not use any eyebrow make-up, tanning and moisturizing products. After the eyebrow lift process, avoid makeup and let the treatment take its full effect. After 24 hours, you can do the make-up you need and safely wash or clean your eyebrows at night.
ReadMore
Collapse
get free consultation for brow lamination Newmarket
If your eyebrow hairs growing in all directions and you would like some fuller eyebrows or you want to get up with the perfectly styled eyebrows, without too much maintenance, this brow lamination Newmarket is for you, so please contact us. In Canada makeup we can help you achieve your goals in this process.
Latest brow lamination Articles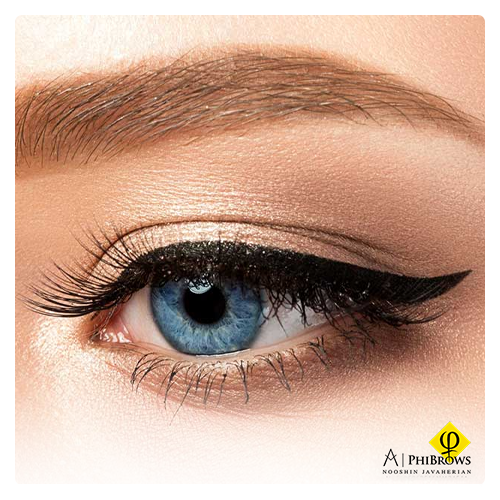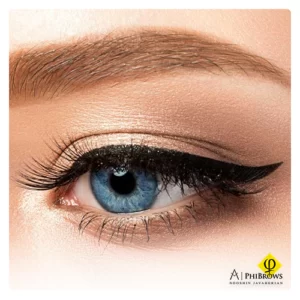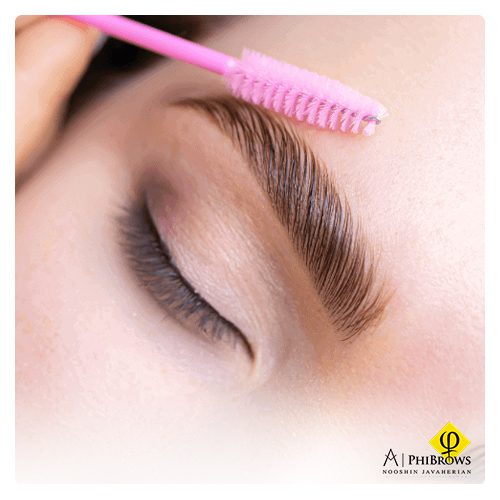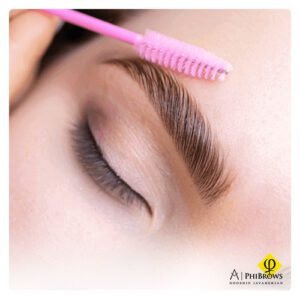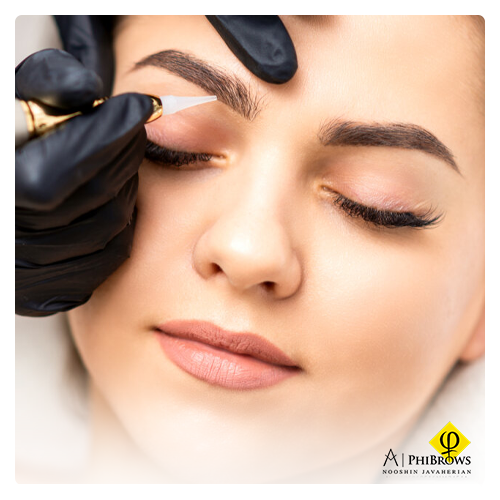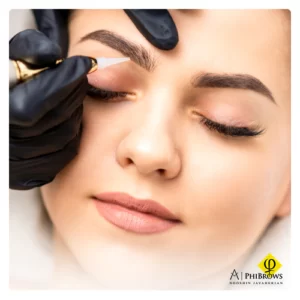 273 Manchester dr ,
Newmarket L3y6j4