In this article, we will examine Bold brows vs Microblading thoroughly. So read on to find out more about Bold brows vs Microblading.
Microblading
Microblading may be an option for those with thin brows who want what some believe to be a semi-permanent fill. Here are the facts, prices, and risks linked with this new trend.
Read more: price of microblading in Toronto
Microblading is considered a type of cosmetic tattooing that fills in sparse parts of the brow to give it a fuller appearance. Proper Microblading can last for up to three years, although regular tattoos can last for ten years or more. As a result, microblading requires a distinct set of equipment and less pigment.
If semi-permanent Microblading is performed poorly, it cannot be readily covered up. This means more charges will be incurred to deal with the difficulties and correct the operation if this happens to someone. The best method to ensure that the microblading process is done correctly is to thoroughly vet the esthetician and the business where the procedure is to be performed.
Preparation
Stay away from caffeinated and alcoholic beverages on the day of the procedure.
Before the appointment, tint the brows.
Three days before the appointment, refrain from using the sun's rays in any way.
No waxing or plucking of the brows two days before the event.
For at least 2 to 3 weeks prior to the surgery, refrain from getting any intensive facial treatment, including chemical peels.
Wash and style your hair at least seven days before the surgery so that the brows don't get wet.
Procedure
It's critical to meet with the esthetician ahead of time to discuss any concerns or issues you might have. As well as making recommendations, the esthetician should explain the procedure and all available options, such as style and color.
There are various topical anesthetics available for use before and during the microblading operation, and estheticians may use one of these ointments before beginning the procedure.
Operating begins as soon as the technician is sure that the customer is relaxed and at ease. It's a labor-intensive procedure that can take up to two hours to complete. Estheticians need to take their time because the results are long-lasting and must be done correctly.
Although the client may experience some discomfort in the brow area, the procedure is normally mildly uncomfortable and well-tolerated. In terms of procedure, Bold brows vs Microblading are entirely different.
read more: Microblading Process At Our Toronto Barrie Clinic
Recovery
A person's eyebrows may seem darker for at least a week following the microblading operation. Due to the scabbing and healing process, they may also feel a little sharper. A bit of redness and swelling is to be expected. Bold brows vs Microblading recovery time cannot be compared because bold brows usually require no recovery time.
Cost and Results
The purpose of microblading is to give sparse brows a fuller, more natural appearance. In some cases, the effects continue for up to two years. To ensure that your eyebrows look their best, you need to hire a professional and experienced esthetician.
According to Allure, it can cost anywhere from $400 to $1,400, depending on the area and the artist's expertise. Some cheaper choices may be accessible. However, it's critical to avoid untrained technicians.
read more: microblading in newmarket with affordable prices
Applying sunscreen to the microbladed region once the skin has healed can help keep the color from fading. 4-8 weeks after the operation, a touch-up procedure to perfect the brows may be necessary for certain patients.
Bold Brows
The current craze is to go a shade darker or fuller with your brows than usual. With lighter brown hair, mastering the brow game means making sure your brows are completely hidden.
Various types of cosmetics, including conventional pencil, gel-based liners, and powders, have come to the rescue.
Popular because it gives the face a more defined and fuller appearance when done correctly, this new style is on-trend right now. Dark circles under your eyes will be less noticeable, and your eyes will appear brighter as a result. It can also help some people appear more vibrant and youthful. So many benefits may be gained from simple addition to your beauty routine.
read more: see item portfolio of bold brows
Reasons for Bold Brows        
Lush, black brows have become increasingly fashionable in the cosmetics business in recent years, but why?
They shape faces
The shape of your face is greatly influenced by the shape of your eyebrows, which can be applied to achieve a more symmetrical appearance.
You'll appear more youthful
This may not be common knowledge, but great brows may give you a natural facelift and make your eyes appear wider and more youthful!
They frame your eyes
The contour of your eyebrows can be used to draw attention away from your eyes' undereye circles and other small imperfections. However, the "ideal brow" for each person is unique because each person has a unique facial, eyebrow, and eye shape.
They give you a polished and stylish look
Your brows may be the star of your make-up look if they're done right. Bold eyebrows may make you look put together even if you don't have any makeup on.
With a pair of bold brows, you'll feel more confident and powerful
When it comes to exuding confidence and a sense of strength, thick brows are essential. The best part of getting your eyebrows done is that you feel like a million bucks when they're done right. Even if you previously have all of this authority, sometimes a simple brow treatment can bring it to the surface, giving you more self-assurance than you've ever had before.
Bold brows vs Microblading Conclusion
When comparing Bold brows vs Microblading, you'll notice that they're quite different from one another, especially in terms of how they are done and expected results. Please get in touch with us if you have any questions and if you are looking for a piece of information that is not here, just write a comment below, and we will get to you at the first chance that we find.
Phibrows vs microblading?
If you are going to do one of these two things, it is better to know enough about each of these processes before starting. Next, we discuss about phibrows vs microblading.
The most important difference is related to pigments. The result of the service will never change to red, gray, blue or orange after one year. This is the most important point related to our services. Whatever color you choose, it will not change during its shelf life. The reason for this is that our pigments lack iron oxide, and the reason for the color change in other brands is the opposite.
As we said in the above section, phibrows is a microblading technique, which means that this method is one of the semi-permanent tattoos. Both methods, phibrows vs microblading, use a small blade dipped in pigment to create hair in the eyebrows.
Phibrows pigment compared to microblading pigments
Phibrows pigments are an advanced formula that uses the best quality iron oxide and synthetic pigments. The result is the durability of the color and the color does not change or fade. Also, the color lasts longer on your skin.
But the results are usually not pleasant with microblading pigments. Over time, they can lose their quality or change to red or yellow. As a result, the eyebrows become orange or gray. This damage can be avoided by using phibrows pigments.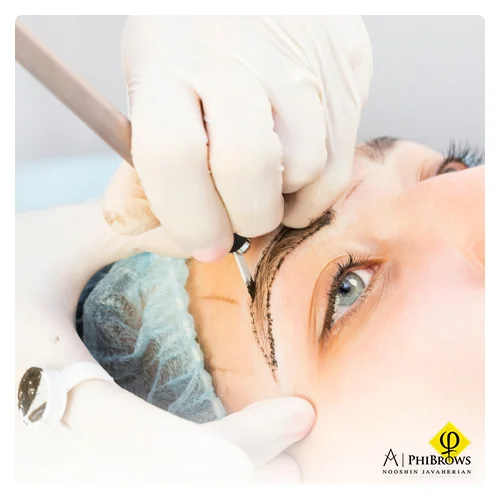 Aftercare product
phibrows offers its aftercare products. These products are available to customers after the treatment. Phibrows products help the healing process and reduce the scaling process.
Can anyone do microblading?
Microblading is a specialized method that requires training and skill. Which specialist you choose is important. In fact, the person you choose should have seen the appropriate trainings and have the experience of this work. In order for a person to master this technique, it is necessary to study anatomy, skin types, skin care and permanent makeup in general.