If you're like the majority of people, you undoubtedly spend a lot of time attempting to get your eyebrows just perfect. Even with all of the products available today, getting them to appear exactly perfect may be difficult. If you're tired of struggling with your eyebrows, microblading might be the solution. This semi-permanent cosmetic procedure can assist you in achieving the ideal eyebrow shape and size. Best of all, while it's still very new, there are a variety of excellent microblading salons in Canada to choose from.
We've produced a list of the 10 Best Microblading in Canada to help you choose the right one for you. We selected these salons based on a variety of criteria, including cost, experience, and client happiness. So, if you're searching for a salon to have your eyebrows threaded or simply want to learn more about this amazing new cosmetic phenomenon, make sure to check out our list!
Read more: Microblading Toronto
1. Canada permanent makeup
Canada Permanent Makeup is one of the greatest and most popular permanent makeup studios in Barrie. Canada Permanent Makeup service can help you feel like a Sunday morning. It's a fantastic way to start your day with eyebrows that really are thick, full, and well-maintained! Nooshin Javaherian founded Canada Permanent Makeup. Her goal in Canada Permanent Makeup is to create highly beautiful and realistic-looking eyebrows that are not penciled in. Her conservative approach to brows is a fantastic way to keep your appearance cohesive. They can always become bigger and darker during the touch-up, so you'll know they not only achieve what you want but also have great potential to enhance!
If you want to improve your natural beauty while also creating a more formal image, performing microblading in Canada Permanent Makeup is a great option. This treatment uses an ultra-fine hand tool equipped with needles that softly etches each individual 'hair' into the skin, providing remarkable detail while preserving a realistic appearance! This Studio based on performing permanent makeup is one of the Best Microblading in Canada.
Nooshin here helps you feel at ease by explaining what you want, providing feedback throughout the route to ensure that your vision is realized exactly as intended, and being nice all around!
Website: canadamakeup.ca
Email: phi.nooshin@gmail.com
Telephone: +1647835 0904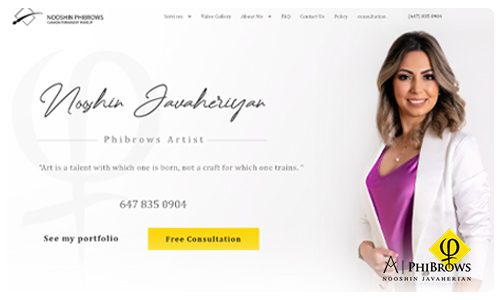 Perhaps you are one of those persons who doesn't have much time to go to multiple Studios for make-up during the day. Lina Tran Studio has been a beauty industry pioneer for over ten years in Toronto, staying on top of all new techniques as their sector advances. They have access to some incredible equipment and supplies that will assist you in achieving your desired appearance without breaking the budget! Their microblading is an excellent option if you want to seem like you have fuller brows without the effort and cost.
Website: www.linatranstudio.com
Email: info@linatranstudio.com
Telephone: +19053928789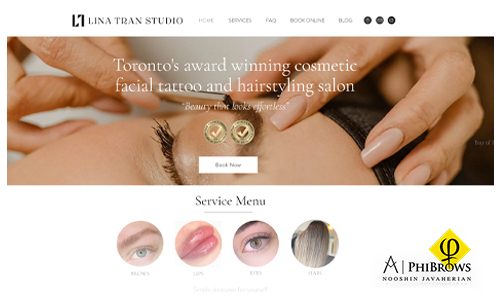 Caryl Baker visage is another beauty salon in Toronto that specializes in semi-permanent makeup and on of the most reputable and best microblading in Canada. Caryl Baker Visage Established in 1969 by makeup artist and fashion model. They want their clients to look and feel fantastic as a top cosmetic shop and beauty service provider, therefore they provide a selection of specialty face treatments, beauty products, and services Caryl Baker Visage face spa is a one-of-a-kind and innovative concept that focuses in everything from neck up! For almost 40 years, they have been the trusted specialists in Canadian beauty, whether you need your brows waxed, a facial, or a total makeover. With 28 locations offering a variety of specialized skin care and cosmetic goods, as well as face services and treatments.
Website:carylbakervisage.com
Email: info@carylbakervisage.com
Telephone: +1416 7897191
Read more: How to Become a Microblading artist Toronto?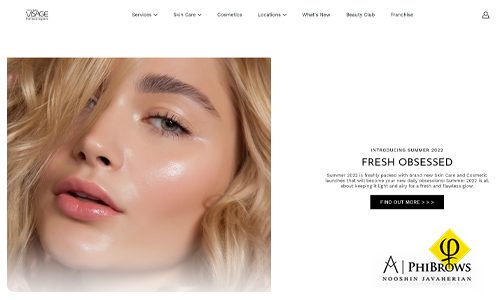 Another one of the Best Microblading in Canada is Tho Brows Studio. it is a Toronto Microblading Salon & Training Academy that specializes in Nano Brow Tattoos for hair loss and alopecia. They provide treatments to both men and women, and their nano-eyebrow tattoo treatment is one of many alternatives accessible at your request!
They specialize in enhancing and recreating hyper-realistic brows for both men and women. Their knowledgeable team has assisted numerous clients in gaining confidence via cosmetic treatments like this one! Their idea is to give the best results possible for each of their clients by using new procedures and high-quality materials. Because of its excellent artist team, Tho. Brows Studio would be able to provide high-quality work on schedule and under budget.
Website:thobrows.com
Email:Thobrows@gmail.com
Telephone: +16476672292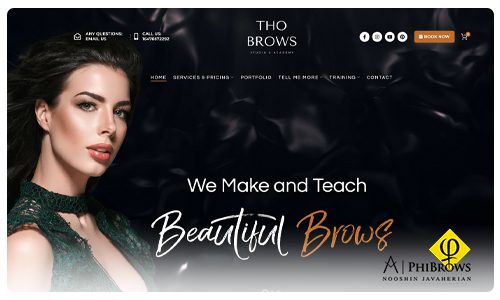 If you live in Langley, Studio Sashiko is one of the Best Microblading in Canada and locations to receive semi-permanent makeup. This PMU Studio is located on Fraser Hwy near Fuller Ln. It was established in 2015 by industry professionals and founders, Shaughnessy and Kyle Otsuji. The eyebrows are one of the most noticeable parts of a person's look.
They are not just to appear well-groomed, but they really enhance the face and make it appear more desirable. If you have thin, low, or no brows, you can employ the microblading procedure or a similar cosmetology method. Studio Sashiko specializes in restorative tattooing and eyebrow microblading for individuals suffering from hair loss due to alopecia, as well as brow beauty improvement.
Website: studiosashiko.com
Email:hello@ Studiosashiko.com
Telephone: +16044273995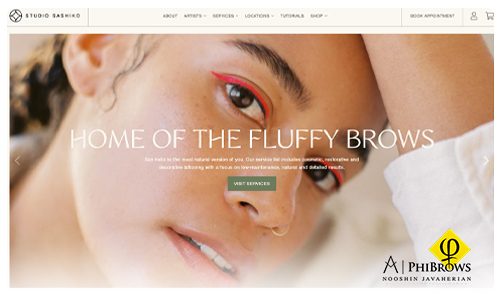 If you want to be appealing, Pomelo Beauty Bar is one of the Best Microblading in Canada! Whether you want a natural yet elegant appearance or something even more hyper-realistic, their treatments may enhance your attractiveness to the maximum. One of their main aims is to enhance your characteristics while creating these appearances!
They provide a number of procedures to assist you in achieving the most appealing look and feel for your specific eyebrows. If nature isn't quite right, they can reshape them with their skillful hands! They provide microblading, a cosmetic technique that generates natural-looking hair strokes along the brow line. The end result is beautifully defined brows that are free of any artificial-looking substances or colors!
Website: www.pomelobb.com
Email:info@pomelobb.com
Telephone:+14164001784
7.Vancouver Microblading & Eyeliner Tattoo Artist.
Let's take a look at another of the Best Microblading in Canada. This is Vancouver Microblading & Eyeliner Tattoo Artist. This beauty salon in vancouver provides amazing natural eyebrows for every woman. Vancouver Microblading & Eyeliner Tattoo Artist is a permanent cosmetics studio that specializes in microblading eyebrows and eyeliner tattoos. Branda, the artist, is highly attentive and accurate in everything she does to help build new brows. If you're unhappy with the shape of your eyebrows, you can call them and make an appointment.
Website: beautytattooist.com
Email:bforbrows@gmail.com
Telephone:+16047152846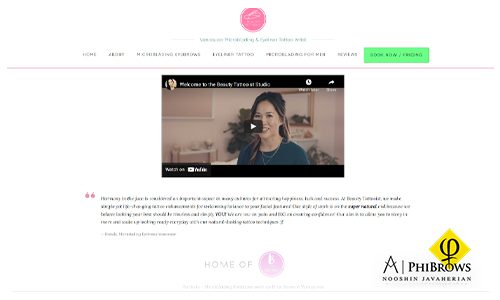 If you're live in Vancouver and looking for the best microblading in Canada, you can call Bianca & Co studion. it is more than simply a beauty salon; it's a place where everyone is welcome. The finest of all worlds: comfortable and welcoming. You won't find a team more willing to go the additional mile for their clients with an open mind anyplace else in town! They are thrilled to provide you with a new perspective on beauty. Their microblading is an excellent option for people who really want their eyebrows to seem more realistic and fuller.
The approach they use is excellent, and you will notice results very immediately. Their studio setting will be both pleasant and empowering as they inspire your future self-confidence! They are great eyebrow artists that answer all of your questions carefully during the consultation procedure.
Website:www.biancacostudio.com
Email:hello@biancacostudio.com
Telephone:+16478355604
9.Brow Beauty Lab - Vancouver Microblading & Permanent Makeup
You're probably one of many women that dislikes having to wear make-up in the morning. Consider using semi-permanent makeup to solve this problem. BROW BEAUTY LAB may be a useful solution for semi-permanent cosmetics if you live in Vancouver or the surrounding areas.
Brow Beauty Lab is a Microblading and Permanent Makeup Clinic in Vancouver, British Columbia, they know that permanent makeup is a serious decision that must be made carefully. They strive diligently to get the most natural and appropriate form for their clients' facial structure and desired look.
Website: browbeautylab.com
Email:info@browbeautylab.com
Telephone:+16047191792
10.Flirty Flutters Lash & Brow
Tired of your brows becoming crooked just after one week? Flirty Flutters Lash & Brow has the answer! Come into their wonderful salon in Davisville village, where they will provide you with longer-lasting microblading. They provide microblading, ombre brows, and other services to help you get the right thick or thin shape for any circumstance! This salon's pros are dedicated to making your brow game look beautiful from every angle.
They take pleasure in the level of care and attention they provide to each customer at their salon. They are dedicated to providing you with the greatest possible experience, whether it be through high-quality products or exceptional customer service.
Website: www.flirtyflutters.com
Email:info@flirtyflutters.com
Telephone: +14164860808