Many women use cosmetic techniques to enhance their lips before leaving the house. It doesn't matter if they use lipstick or lip gloss; both will give your lips a more beautiful look. Lips enhanced with cosmetic techniques like Semi permanent makeup lips look great. Regular lip makeup may not be liked by many women because it is short lasting. For this reason, many people go for Semi permanent makeup lips. This adds color to your lips semi-permanently and gives your lips a long-lasting boost. You can continue reading this blog to get more information about this.
What is Semi permanent makeup lips?
There are different names for Semi permanent makeup lips, including lip blush, lip tattoo, lip contouring, tattooed lip line, etc. Each of these methods involves the precise application of specialized pigments to the skin of your lips. Using a special machine with a lower speed and frequency than a traditional tattoo machine, very fine needles gently place the color all over your lips using a series of techniques. The choice of techniques is in accordance with the look you choose.
The benefits of Semi permanent makeup lips
Many clients use Semi permanent makeup lips because they don't need to wear lipstick or lip gloss daily. Anyway, the result of the work should be such that the customer feels more confident than before without using any makeup. Semi-permanent lip makeup gives your lips a special beauty. In this section, we will discuss some of the benefits of semi-permanent lip makeup:
Strengthen lip symmetry
Ability to customize your lip shade
Long lasting lip color
Color correction for uneven pigmentation or scars
Fuller lips without the need for injections or surgery
Increased pigmentation during aging or pale lips
Thanks to the mentioned benefits, semi-permanent lip makeup is in high demand. The progress of this treatment is just like the progress of eyebrow treatment like microblading semi permanent . In fact, the main goal of these treatments is not cosmetic but to increase natural beauty.
This treatment is suitable for all skin types. When an expert and experienced technician does semi-permanent lip makeup, it can have the best results.
In the past, the inks used in tattoos were placed deep in the skin, so the results were permanent. Currently, the pigments used in new treatments are natural pigments placed on the skin's surface. This process causes semi-permanent durability and elegance of the lips.
Is semi-permanent lip makeup safe?
When Semi permanent makeup lips is done by an experienced specialist, it is considered a safe treatment. But to get the best and most reliable results, it is better to consider any possible problems or experiences before choosing your artist. After choosing your artist, talk to her about any problems you have, such as eczema, acne, certain wounds, and more. In this way, the artist can determine whether you are a good candidate or not or take special precautions into account if necessary.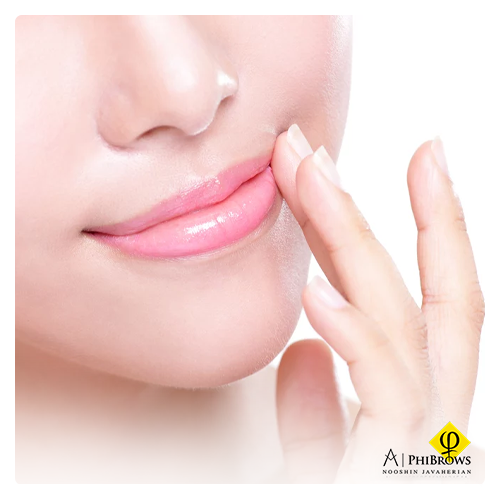 How long does semi-permanent lip makeup last?
Usually, Semi permanent makeup lips last for two to three years for people, and its color gradually brightens and after a while, it starts to fade until the color of your lips returns to its natural state. As a result, you can expect your lips to be much brighter after two years than six months after treatment. For this reason, we recommend that you use annual touch-up sessions to prolong the color of your lips.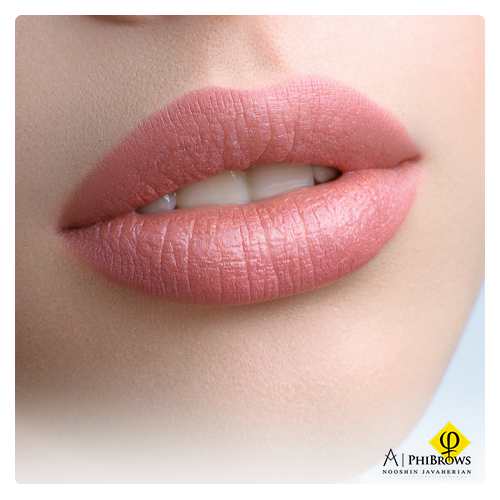 How much does semi-permanent lip makeup cost?
The average cost of semi-permanent lip makeup in our studio is $480. The cost of this treatment varies according to the style that is performed for you, the location, the popularity of a studio, the expertise of the artist, and the quality of the equipment used. Some artists include the cost of the first touch-up session in their initial fee, and others do not. Pricing methods are different for each studio. You should keep in mind that if you let your lip tattoo fade, you will have to pay more to get a result like the first day because more work needs to be done.
Who is semi-permanent lip makeup suited to?
If you are among the people who like to use lipstick but are tired of having to renew it constantly during the day, you can use this method. Also, if you want to add volume to your lips, you are a good candidate for this method. Of course, it should be remembered that semi-permanent lip makeup does not work like lip fillers, but it does change the volume of your lips to some extent. Semi-permanent lip makeup can be a great result for people with uneven lips. With this, you can hide any imperfections and have more symmetrical lips.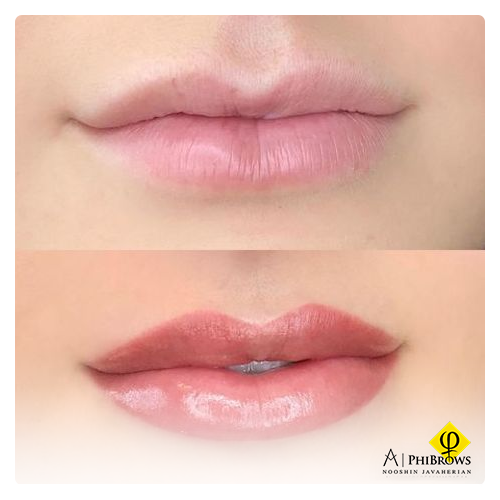 What happens in semi-permanent lip makeup appointment?
Always before the treatment starts, all the necessary consultations are done by our experts to help reduce your worries. We start with what the client expects from this treatment and what shape and color they want for their lips. Considering the natural color of people's lips, our experts offer expert advice on what suits them. After that, the lips are measured and designed with the help of a special pencil so the customer can see the final result. We try to show her the closest result. Then the tattooing process begins, which usually takes up to 2 hours.
Does semi-permanent lip makeup hurt?
Our customers always ask this question about how much pain they will experience during this treatment. The good news we can tell you is that the pain you imagine is much more than the pain you feel during the actual treatment. Our job is to make sure the customer feels as comfortable as possible. You should know that semi-permanent lip makeup is less invasive than traditional tattoos. In most studios, they use numbing creams before starting the treatment.
What does semi-permanent lip makeup aftercare entail?
Usually, after the treatment, you will be given a special cream that you should use 2-3 times a day until the area heals. Applying lipstick on lips that are healing is a big mistake. You should also avoid going to the gym or being in the sun for a week. Be careful not to wet your lips and avoid salty and spicy foods.
Final thoughts
If you want your lips to be more prominent and beautiful, using semi-permanent lip makeup can be a suitable option. However, it would be best if you were very careful in choosing your artist. You can check customer comments and before and after treatment photos done by artists. If you want a professional studio to beautify your lips without worry, contact us, and we will introduce you to our best technicians.